Ultimate Shopping Experience…As Region's Newest And Largest Food City Store Opens In Abingdon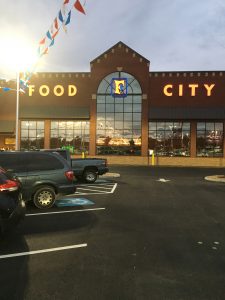 Hundreds lined up early Wednesday morning for the official grand opening of this region's largest Food City Store. The 62 thousand square foot, state of the art, flagship store in Abingdon is designed to deliver the ultimate shopping experience. Steve Smith is President and Chief Executive Officer for Food City.
(:13)…well certainly this is a great location, The Meadows Property is going to be a great shopping area, it will be a great opportunity for other businesses to locate here for commerce, create more tax dollars here in Abingdon. We're just excited about it.
The new store features a Starbucks Cafe' a growler station, offering craft beers on tap, and an expanded grocery, frozen food, and produce departments and the newest innovation in customer assisted checkout. The store is located at 151 Cook Street in Abingdon.
Courtesy of Image: J. Cleary/Supertalk 92.9