UPDATE: Hog Wild Saloon being leveled for faith-based project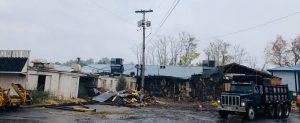 A faith-based organization is going forward with plans on the property that used to house a notorious nightspot in Kingsport.
Information from Engage Tri-Cities says demolition crews are leveling the former Hog Wild Saloon on West Stone Drive. The bar was permanently closed after a fatal 2018 shooting and city code officials citing previous owners for numerous safety violations.
Engage founders have said they are still making plans for what to do on the property but they have noted it will be a project that will benefit the city and community.
(PHOTO: Engage Tri-Cities / Facebook)