TWRA: Biologist discovers several species of dead fish in Watauga River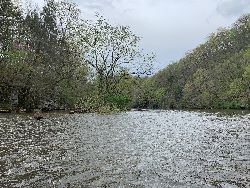 Officials with the Tennessee Department of Environment and Conservation are trying to determine what caused a fish kill on the Watauga River.
A spokesman with the Tennessee Wildlife Resources Agency said one of their biologists discovered several species of dead fish including minnows and trout. A preliminary test by TDEC showed elevated levels of chlorine in the water that were traced back to a storm drain located above the Brush Creek Wastewater Treatment Plant.
The source of the chlorine has not been detected and TDEC will continue their investigation.
(PHOTO: State of TN / TWRA)