Car theft pair admit to stealing, trashing muscle car from Jonesborough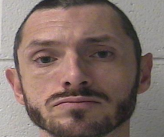 Two East Tennessee men have confessed to stealing a limited edition muscle car out of a garage in Washington County.
Shannon Lynn Harris, 40, of Erwin, and Christopher Eugene Hammett, 44, of Limestone, told investigators that they forced their way into a home located on Charlies Carson Road in Jonesborough in April and swiped a 2010 Ford Mustang Shelby. The Kentucky State Police later recovered the demolished car in Pike County.
A report from Sheriff Ed Graybeal said Harris and Hammett are both charged with aggravated burglary and theft over $60,000. (PHOTOS: WCDC)