UPDATE: Driver Severely Injured in Nov. 4 Tractor-Trailer Crash in Kingsport Dies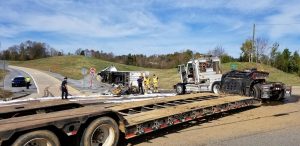 A tractor trailer driver seriously injured in an accident in Kingsport last Monday has succumbed to his injuries.
According to an update from the Kingsport Police Department, Anthony Alan Wofford was traveling north on Fordtown Road approaching the I-81 access ramp, when another tractor trailer failed to yield at a stop sign, causing Wofford to slam into the side of the truck, before overturning. Wofford died of his Saturday. Police say charges are now pending against the other driver involved, 73-year old Carl Reuter.
Courtesy of Image: Kingsport Fire Department