UPDATE: Two involved in June 2018 baseball bat attack in Carter County sentenced to 10 years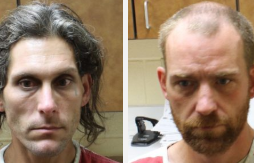 Two of the four suspects charged in a baseball bat beating caught on video have been sentenced in Carter County Criminal Court.
Michael Todd Silcox, 42, and Ross Bee Kelly, 39, were both sentenced to 10 years in prison after they pleaded guilty to attempted first-degree murder and especially aggravated kidnapping. Prosecutors said in June 2018 Silcox filmed the video of the victim being hit in the attack that took place on Rasnick Hollow Road.
Kasey Miller pleaded guilty in September for her role in the case and is currently serving an 18-year sentence.
(PHOTOS: L to R, Michael Silcox and Ross Kelly / CCSO TN)