Proposed Van Pelt Site Presented to Bristol, VA City Council Tuesday Night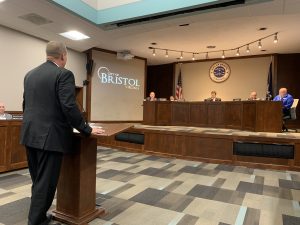 Bristol, VA City council have been presented a plan for a proposed new elementary school in Bristol, VA.
Superintendent Keith Perrigan spoke to council members about the recently approved decision by the school board to move forward with the proposed Van Pelt site, which is estimated for 630 students at a cost of $18.4 million. If council voted to move forward the proposal, they would enter into a state mandated public private facilities comprehensive agreement. During the nearly two hour discussion, topics were brought up such as how many employees would be affected and traffic rerouting around the site. Community members for and against the site also presented public comment.
A public hearing and further discussion is anticipated at the next City Council meeting.
Courtesy of Image: T.Adams/Supertalk 92.9