UPDATE: Convicted attempted murder suspect in Wise County gets 12 years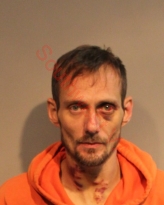 A Norton, Virginia man will go to prison for 12 years for stabbing a woman multiple times last year.
Court records show Jonathan Eric Smith, 39, had already pleaded guilty to an assortment of charges connected to the August 2018 incident at Hillside Apartments including attempted first-degree murder and abduction.
Smith reportedly stabbed himself several times after attacking the victim and had to be subdued with pepper spray while being arrested.
(SWVRJA)