Greeneville Man Arrested for Alleged Connection to Three Burglaries in Washington County, TN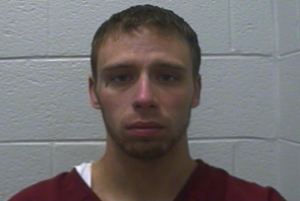 A Greeneville man has been arrested in Washington County, TN after police say he was connected to a string of burglaries.
A press release from the Washington County, TN Sheriff's Office says last Friday, they received a call about two burglaries in the areas of Washington College Road and CC Wright Road. Suspect Tyler David Bolton, 26, was seen from running from the scene, and shortly after, deputies were able to locate him. They say he had items from the burglaries, and another investigation determined Bolton was connected to a third burglary on Conklin Road. They also say he is a suspect in another case.
He faces several charges including Three Counts of Aggravated Burglary, Theft of Property, Unlawful Carrying/Possession of a Weapon by a Convicted Felon, Possession of Methamphetamine, Schedule VI Drug Violations, and Simple Possession.
He is currently being held on $72,000 bond and is scheduled for appearance in Washington County General Sessions Court next Monday at 1:30 p.m. The investigation is ongoing and more charges could be filed.
Courtesy of Image: Washington County, TN Sheriff's Office