TVA Boone Dam Project Selected As Nation's Most Outstanding Geological/Engineering Project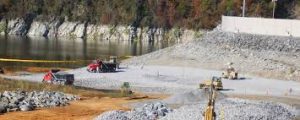 Northeast Tennessee's TVA Boone Dam Project has been selected as the nation's most outstanding geological and engineering project by the Association of Environmental and Engineering Geologists. Jeff Lyash, is TVA's President and Chief Executive Officer.
(:10)…THE PROJECT WAS SPECIFICALLY NOTED FOR ITS INNOVATIVE USE OF GEOREFERENCING DATA, RISKED INFORMED DECISION MAKING AND CONTRIBUTIONS TO THE PRACTICE OF UNDERGROUND CONSTRUCTION OF DAMS.
The TVA made the announcement at its recent 2019 fiscal year report and also noted more than eleven billion dollars in operating revenues for the year.