UPDATE: Southwest Virginia superintendent says school following federal laws by taking down religious prayer plaque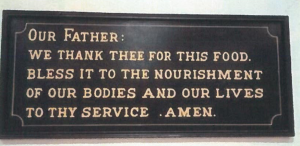 A school superintendent from Southwest Virginia says they must follow the letter of the law when dealing with a plaque posted near a cafeteria that contains a prayer.
In a statement provided to us by Wythe County Superintendent Scott Jefferies, he says the law is clear in that public schools cannot favor one religion over another and schools are prohibited from endorsing such messages in their facilities.
Fort Chiswell High School recently took down the plaque following a complaint from the Freedom From Religion organization based in Wisconsin.
(FFR)