Kingsport BMA Passes Ordinance that changes City Code potentially Impacting Ballad Health Protests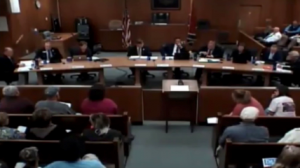 The Kingsport Board of Mayor and Alderman has passed an ordinance proposal to change city code that would prohibit certain temporary and permanent structures on public right of ways.
During last night's meeting, the board approved the code change 5-2 on second reading. The code change prohibits structures from being placed on public right of ways that do not fall under certain provisions, such as if structures are not connected to a special event, or do not have a permit on file with the city. A packed room of citizens voiced their displeasure with the proposal, with some saying it directly affects their first amendment rights, as well as an attack on the months long peaceful protest against Ballad Health, which has set up tents outside of Holston Valley Medical Center.
Among those who spoke during the public comment portion included Dani Cook, a vocal leader in the Ballad Health protests.
Alderman Jennifer Adler and Alderman Darrell Duncan were the two that voted against the proposal change, while the rest voted for the code change.
Courtesy of Image: Kingsport BMA Live Stream