Tusculum Police Identify Person Recovered from Nolichucky River, Reported Suspect in Previous Case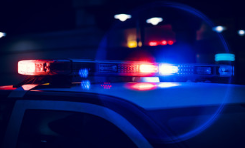 Police have identified the individual found following a body recovery on the Nolichucky River.
According to the Tusculum Police Department, the victim is John Dillihunt, 54, of Greeneville, TN. Fisherman located his body on Sunday, and a Sullivan County Sheriff's Office dive team was called into recover the body on Monday near the Kinser Bridge. Authorities say they were searching for Dillihunt after they say he fled from law enforcement on October 14th and fled into a wooded area near the river. A few days later, a suspect in the case told police he fled with Dillihunt, but had not heard from him since and also did not know if he had swam across the river like the suspect in question did.
Dillihunt's family reported him missing on October 21st and were concerned he may have gotten into the river because he was unfamiliar with the area. Several departments participated in a boat search of the river that he may have entered at including the Tusculum Police Department, Greene County Sheriffs Department and Greeneville/Greene County Rescue Squad, but did not initially locate the body. After being located Monday, Dillihunt's body has been sent for an autopsy and no foul play is suspected. Charges are being placed against the one suspect located and an additional female suspect.