Driver, Passenger taken to hospital following Tuesday crash on Highway 19E involving Carter County deputy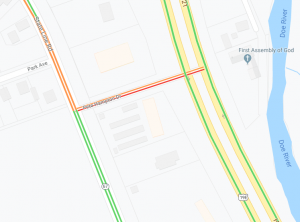 Two people were injured following a Tuesday afternoon crash on Highway 11-E involving a Carter County deputy.
According to a crash report Tennessee Highway Patrol, the deputy was traveling southbound on 19E when a 2004 Chevy Trailblazer, driven by Dena Marie Wilson, 65, pulled out from Peter Hampton Drive into the path of the sheriff cruiser, causing a front end collision. Wilson and the passenger in the SUV were reportedly trapped due to the vehicle landing on its side. They were extricated and transported to the hospital to be treated for injuries, and their conditions are unknown at this time. The deputy was treated for a minor injury at the scene.
Charges against the SUV driver have been filed. Emergency crews from the Hampton Valley Forge Fire Department reported that the roadway near the accident was closed, but officials from the Carter County Sheriff's Office report the roadway is now reopen.
Courtesy of Image: TDOT Smartway