Johnson City Man Accused of Threatening Great-Grandmother and Grandmother's Life with Machete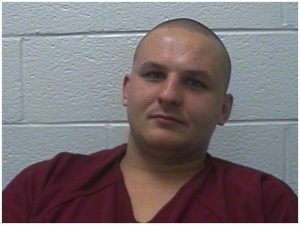 A Johnson City man is arrested and charged with two counts of domestic aggravated assault after he allegedly threatened to kill his grandmother and great-grandmother.
Johnson City Police say they were called to an near Lynwood Circle Monday night, and an investigation revealed suspect Aaron Coggins, 24, reportedly held a machete to his grandmother and great-grandmother's throat while also threatening to take their life. Coggins was also accused of damaging furniture and a wall caused by swinging the machete. He is being held on a $50,000 bond in the Washington County Detention Center and is scheduled to appear in court this afternoon.
Courtesy of Image: Washington County Detention Center