Police charge Richlands, VA man after allegedly striking and killing pedestrian with vehicle in Abingdon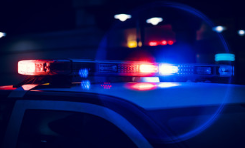 Abingdon Police have charged a Richlands, Virginia man after a pedestrian was struck and killed at a crosswalk near the Barter Theatre.
Samuel Jackson, 42, is facing charges of failure to stop for a pedestrian in a crosswalk, after he allegedly struck Philip Topa, 82, of Glade Spring, VA, with his car as Topa was crossing the street at the 100 block of West Main Street the night of November 21st. Police say Topa died of his injuries on November 30th.
The case remains under investigation.