UPDATE: Kingsport Police say suspect reportedly fired multiple shots in or near apartment around scene of Lovedale Drive, still believed to be inside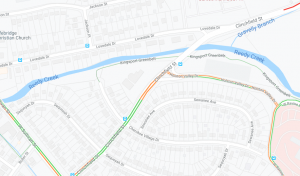 UPDATE (9:30 A.M) Kingsport Police have provided an update in their investigation into reports of shots fired on Lovedale Drive Friday morning.
They say for unknown reasons, a male suspect fired multiple shots either inside or close by to an apartment in the 500 block area of Lovedale Drive. Police say the suspect is still believed to be inside the apartment, and officers report that they do not have reason to believe anyone was struck by any of the gunfire. Several officers and tactical units are on scene and police have established a perimeter around the area. Neighboring residents are being evacuated.
Additional information will be released as it becomes available.
PREVIOUS STORY:
Kingsport Police are investigating reports of shots fired near the 500 block of Lovedale Drive.
Officers responded to that area around 6:30 a.m Friday morning and currently investigating. Police say out of an abundance of caution, some adjacent roadways have been temporarily closed for safety. These areas are as follows: the entirety of Lovedale Drive and the section of Clinchfield Street from Center Street to Stone Drive. Citizens are asked to plan ahead and avoid the area for the time being.
According to Kingsport City Schools Assistant Superintendent Andy True, Andrew Jackson Elementary is operating on normal status and is not on lockdown.
This is all of the information we have right now, and we'll work to get more updates as it becomes available.
Courtesy of Image: TDOT