Vanderbilt poll: Majority want Nathan Bedford Forrest bust removed from Capitol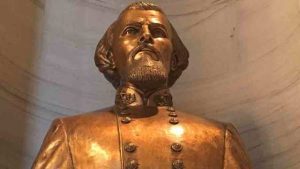 A recent Vanderbilt University poll says a majority of those questioned, including members of both political parties, are in favor of moving a bust of Confederate general Nathan Bedford Forrest out of the state Capitol.
While 76 percent want it gone, 47 percent want it placed in a museum and 29 percent want it gone, the poll said. The State Capitol Commission has no plans to address the issue. The bust has been inside the Capitol since 1978. Forrest has been identified as the first grand wizard of the KKK.
(PHOTO: Associated Press)