Johnson City Commission approves funding request to support cleaning up Boone Lake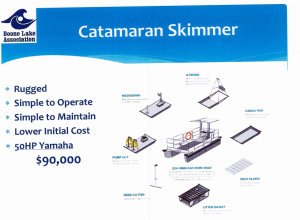 A request to partially fund cleaning up Boone Lake has received its second approval this week.
Johnson City Commissioners unanimously voted Thursday night to move forward partnering with Washington County to split funding for the Boone Lake Association to purchase a catamaran skimmer and other equipment that will be used to clean up vegetation and other debris that have built up in the lake. Both the county and city will fund $62,500 each to help pay for the cost.
The Boone Lake Association is also hoping to seek the same funding from leaders across Sullivan County.
Courtesy of Image: Boone Lake Association