One-year old, two others killed in Thursday night crash in Unicoi County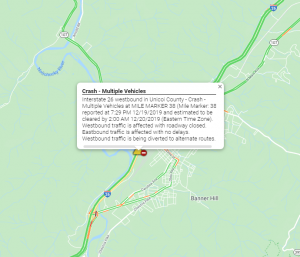 Three people have died following a head-on crash Thursday evening on Interstate 26 in Unicoi County.
According to a preliminary Tennessee Highway Patrol crash report, a 2001 Dodge Dakota driven by Tina Marshall, 42, was traveling eastbound on Interstate 26 Westbound near mile marker 38 around 7:24 p.m, while a 2019 Toyota CHR driven by Anthony Owens, 23, of Fort Still, Oklahoma was traveling westbound. Both cars collided head on, and Marshall, Owens, and a one year old passenger in Owens's vehicle were all killed.
The accident, shut down a portion of Interstate 26 for several hours. The crash remains under investigation.
Courtesy of Image: TDOT