UPDATE: Federal judge rules Gatlinburg fires suit continues on basis of warning given before blaze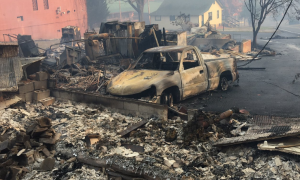 A suit filed on behalf of families affected by the 2016 wildfires in Gatlinburg and Sevier County will continue in federal court.
Documents show a senior judge in US District Court has ruled those survivors can argue that National Park Service officials did not adequately warn residents about the blaze that claimed 14 lives and leveled more than 2,500 dwellings. The judge also noted that the suit cannot question the way the fire was contained. A motion to dismiss the suit by the US Department of Justice was overruled last month.
(PHOTO: From 2016, M. Nagi – TDOT)