UPDATE: Herring files suit to make sure ERA becomes part of Constitution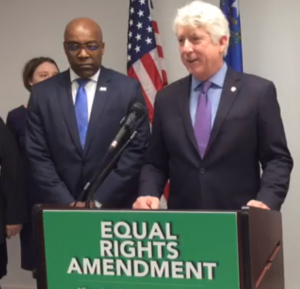 Virginia Attorney General Mark Herring is filing suit to make sure the General Assembly's vote to ratify the Equal Rights Amendment is recognized in the US Constitution.
"…And the law will never again treat any American like a second-class citizen on the count of their sex," Herring said at a Thursday news conference.
The vote on Monday by Virginia signified the 38th and final state needed to ratify the amendment. Some opposition groups have said women have already achieved equality while others argue the change would give an extra advantage to those states that favor abortion. Herring added that the work for change is not done.
"But this movement and the women in America have shown time and again if you throw up roadblocks, they'll go over them, they'll go around them or them or they'll go through them," he said.
(AUDIO / PHOTO: Commonwealth of Virginia / Office of the Attorney General)