FEBURARY FLOOD BLOG: High, rushing waters block roads, strand residents, cause major rivers to peak near flood level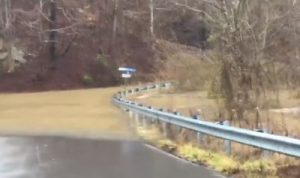 3:00 p.m.
– CHECK OUT THIS VIDEO! Bays Mountain Park in Kingsport is closed due to flooding and high water. Witness the power!
– The American Red Cross has opened a shelter at Wesley United Methodist Church at 225 Princeton Road in Johnson City to help those displaced due to flooding.
– Wise County Emergency Management has a shelter open at Coeburn Middle School at 518 Centre Ave.
– The National Weather Service has extended flood warnings for Hawkins County, TN, and Lee County, VA until 9 pm EST Thursday.
– An Appalachian Power outage map is available by clicking here. As of 3 p.m., more than 2,700 customers were without electricity due to weather conditions.
– Tazewell County and officials in Richlands officials have deployed water rescue personnel. They are also going to areas cut off by flooding to check for evacuees.
– Hawkins County, TN emergency officials said 30 roadways are closed and they are dealing with two landslides.
____________________________________________________________________________________
2:00 p.m.
– A number Southwest Virginia counties have declared a state of emergency due to flooding closing roads and causing traffic-halting landslides:
Buchanan, Dickenson, Russell, Tazewell, and Wise have notified state officials in Richmond that official resources may be needed to help with flooding.
– Voluntary evacuations were being emphasized in the town of Appalachia in Wise County, especially in the Inman community and other coal camp areas due to the rising Powell River.
– Scott County emergency personnel had to rescue a stranded motorist who drove into high water on Natural Tunnel Parkway near Duffield early Thursday. Authorities said the driver managed to escape the sinking car and perch themselves on the roof until rescue personnel was able to reach them.
– Bristol, Tennessee swift rescue teams were deployed to help stranded campers located off of Volunteer Parkway.
– A complete list of VIRGINIA road closures is available by clicking here.
– River levels in Southwest Virginia can be monitored by clicking here.
– Road closures and conditions in Northeast Tennessee are available by clicking here.
– The latest flood levels in Northeast Tennessee are available by clicking here.