UPDATE: Northam legislation to remove Confederate memorials and monuments clears House and Senate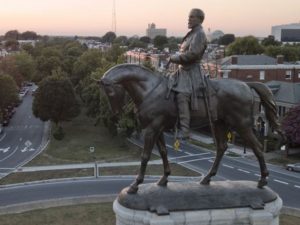 Last month, Virginia Governor Ralph Northam was clear in his intentions to deal with Confederate and Civil War monuments.
"Historic justice is intended to correct historic injustices," he said at a Richmond press conference.
The Democratic-controlled General Assembly has voted to approve his proposal of giving localities all across the Commonwealth the power to remove period-related markers and monuments. Northam's move was motivated by the 2017 white supremacist rally and mob scene in Charlottesville that was sparked by the city's proposal to move a General Robert E. Lee statute.
There are more than 220 such memorials in the state and laws currently exist that prohibit their removal and punishes those who deface the property.
The bill will go into conference for additional work. The Senate version requires counties, cities, and towns to pass a resolution to call for the removal of the statute. It then will be researched by state officials before a final vote and a possible referendum for voters.
(PHOTO: Associated Press)