Lawmakers to carry Lee bill to allow Tennesseans to carry a gun without a permit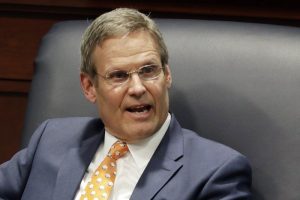 "Today, I am announcing that we will be joining 16 other states in this nation by introducing a constitutional carry law in the state of Tennessee."
Governor Bill Lee at a Nashville news conference announcing those in the Volunteer state will be allowed to carry a gun without a permit if his administrative bill passes the General Assembly.
It would apply to those age 21 or older and only in unrestricted areas. The bill also increases penalties for stealing or providing a juvenile with a firearm with a mandatory minimum sentence.
"The bill is not only focused on protecting our Second Amendment liberties but also increasing safety for all Tennesseans," the governor said.
(PHOTO: Associated Press)