Tennessee House votes against Kelly's appointment to ETSU Board of Trustees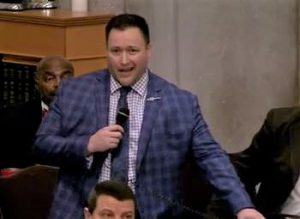 "Umm, colleagues, I ask you to vote against this resolution."
A pointed political move by Representative Micah Van Huss asking the House of Representatives to vote against the formal appointment of former Jonesborough Mayor Kelly Wolfe to the ETSU Board of Trustees.
The House voted 48-40 against Wolfe. Van Huss said his recommendation is based on a 2014 political ad that ran in a local newspaper that he said Wolfe financed to attack the parents of fellow Representative Matthew Hill.
"This is a man who colleagues who have approached me wondering what was going on, a man who the folks in Washington County have voted out of office who has worked against one of our colleagues in this chamber for his entire time in this legislature," Van Huss said during Thursday's session.
Wolfe had been serving on the ETSU board since his appointment by Governor Bill Lee in July and was slated to serve on the committee until 2025. The appointment now goes back to committee.
(AUDIO & PHOTO: State of Tennessee / House of Representatives)