CCSO: Three arrested on drug charges this week in Butler community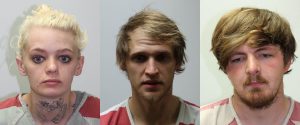 Three people in Carter County were taken to jail following arrests made related to drug charges earlier this week.
The Carter County Sheriff's Office announced Thursday that Joshua Stout, 24, Autumn Bradshaw, 23, and Travis Potter, 21 were taken into custody on drug possession counts including a firearm possession charge for Bradshaw and Stout.
Deputies were serving a warrant Wednesday night on Bradshaw at a home in the Butler community, and during a search, police found several oxycodone pills inside a vehicle. Bradshaw was arrested as well as Potter, who was inside the vehicle, was also placed under arrest.
Police returned to the home around midnight and located over 100 grams of methamphetamine, more oxycodone, and a pair of firearms inside. Police then placed Stout into custody. Potter has been released from jail on a $10,000 bond, while Stout is being held on a $51,000 bond and Bradshaw remains incarcerated on a $54,000 bond.
Photo Courtesy: Carter County Sheriff's Office