Ballad Health moving closer to resuming elective surgeries in TN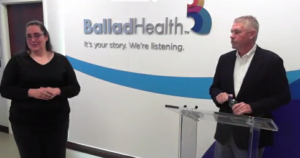 Ballad Health is starting to make final preparations on when they will be able to resume elective and non-emergent surgeries in the state of TN.
Eric Deaton, Ballad Health's Chief Operating Officer, says the state's economic recovery group and healthcare subcommittee are prepared to give final recommendations to Governor Bill Lee on Thursday, while Ballad expects to put the final touches on their own plans next week once the state's plans are reviewed and approved.
Deaton says these procedures will start up again once the system's plans are finalized along with guidance from the Governor's office. Ballad will be reviewing its own plans by determining if it has things like adequate supplies and staff available to conduct the necessary procedures, and looking at continuing to limit visitor entry into the system's facilities.
Photo Courtesy: Ballad Health via WebEx