UPDATE: Over 200 visit COVID-19 mobile test site in Johnson County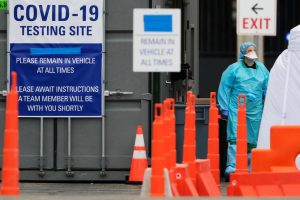 The number of Northeast Tennesseans driving to state-sponsored mobile test sites to get tested for free for the coronavirus continues to grow.
Data provided by the Tennessee Department of Health shows over the past five days more than 1,500 residents have visited those remote locations- well above state projections.
That number includes the 202 participants who came to the clinic located at Johnson County High School on Wednesday.
Expanded testing will be available this weekend at the Greene County Fairgrounds and at Volunteer High School in Hawkins County. Free tests are available weekdays at local health departments.
TDH data shows more than two dozen patients in Northeast Tennessee are being treated for COVID-19.
(PHOTO: Associated Press)