VSP: Driver transported to hospital following tractor-trailer crash early Monday on Interstate 81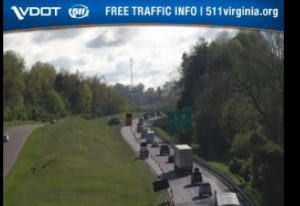 UPDATE (9:26 a.m)- VDOT 511 reports the accident has been cleared as of 9:14 a.m.
ORIGINAL STORY:
A tractor-trailer driver was taken to the hospital following an early morning crash on Interstate 81 in Washington County, VA.
According to a Virginia State Police spokesperson, a driver was traveling north on I-81 around mile marker 16.7 close to Exit 17 just before 1:30 a.m Monday, when the driver reportedly fell asleep, ran off the left side of the roadway, ran up an embankment, and overturned. VSP says the driver was transported to Johnston Memorial Hospital for treatment of unknown injuries.
As of 8:30 this morning, the left lane remains closed as cleanup from the crash continues.
Photo Courtesy: VDOT 511 Live Cams