Wednesday Night Thunder: Proposed NASCAR return to Bristol tentatively set for June 3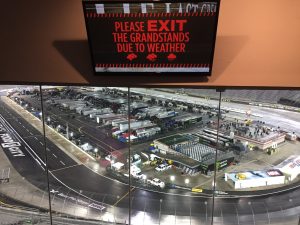 Media reports indicate NASCAR is ready to return to racing and that includes a trip back to Thunder Valley in the coming weeks.
According to information published by Autoweek, the Food City 500 at Bristol Motor Speedway is tentatively scheduled for Wednesday, June 3.
Several dates were postponed by the sanctioning body due to the coronavirus outbreak. The revised schedule will begin with a doubleheader at Darlington on May 17 and 20. The circuit will then make a stop for another doubleheader at Charlotte with Coca Cola 600 on May 24 and a 310-mile feature on May 27.
The following week the tour goes to Martinsville on May 31 and then racing returns to Bristol.
(PHOTO: KC / SuperTalk 929)