Ballad receives recommendations to resume elective surgeries next Monday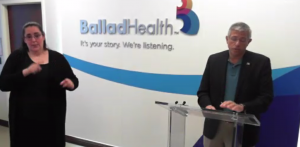 Ballad Health has received recommendations to resume elective surgeries beginning next Monday.
During the health system's press conference on Wednesday, officials said the decision to move forward with starting up elective and non-emergent cases again was through a joint effort with Ballad's Surgery sub-committee group with physician leaders in the system and the state of TN's economic recovery group. Ballad will resume surgeries starting with outpatient procedures, and will work towards having cases that require a short stay, then procedures that require a longer hospital stay.
Dr Beth Jackson says any patient that has surgery will be tested for COVID-19 prior to their procedure. CEO Alan Levine says the backlog for procedures sits at around 5,000, but Levine says it is manageable.
Photo Courtesy: Ballad Health via WebEx