Gov Lee: Executive Order 30 to keep hair salons, tattoo parlors, other close contact services closed until the end of May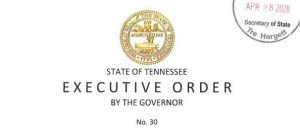 A new executive order from TN Governor Bill Lee will keep close contact businesses like hair and nail salons, as well as tattoo parlors closed for the next month.
Executive Order 30, published Tuesday, orders several personal care services to remain closed, as well as keeping entertainment venues like as bars, night clubs, concert venues, and amusement parks shuttered.
Although the latest executive order is in effect until May 29th, the order may be amended before the end of May as more guidelines are developed to allow the safe reopening of additional businesses. We have a link to the executive order on our website.
Executive Order 30 also includes information about social gatherings and guidance for places of worship and funerals homes. Social gatherings of 10 or more people will remain prohibited, however, places like churches and funeral homes do not fall under the social gathering label.
Therefore, the order cannot close these places, but state officials strongly encourage churches to continue utilizing online or virtual platforms to conduct services, as well as encouraging postponement or limiting attendees to funerals and those holding weddings.
Below are a list of the businesses that are to remain closed are part of the latest executive order:
Close contact personal care services: Barber shops, hair salons, waxing salons, threading salons, nail salons or spas, spas providing body treatments, body art facilities or tattoo services, tanning salons, and massage therapy establishments or massage services.
Entertainment and recreation venues: Bars, night clubs, live performance venues, bowling alleys, arcades, concert and sporting event venues, theaters, auditoriums, performing arts centers, racetracks, indoor children's play areas, adult entertainment venues, amusement parks, senior centers, and skating rinks.