OFFICIAL: Forbes to replace Manning as Wake Forest men's head basketball coach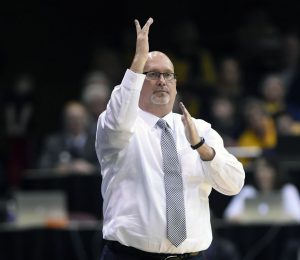 Steve Forbes has leveraged more than 120 wins at a mid-major university into a coaching job in one of the NCAA's premier conferences.
Forbes was officially named the head coach for Wake Forest Demon Deacons men's basketball Thursday afternoon–departing ETSU after 5 years in Johnson City where he led the Buccaneers to one NCAA tournament appearance and at least 20 wins in each of those seasons.
"Leaving ETSU was not an easy decision for me and for my family," Forbes said in a statement issued by the school located in Winston Salem. "I will be eternally grateful to President Dr. Brian Noland, the fans, and those student-athletes with whom I shared such special experiences. They have taught me so much and changed my life."
Forbes becomes Wake's 23rd head basketball coach and replaces Kansas legend Danny Manning who was dismissed by the ACC school on Monday after producing only one winning season and a lone tournament bid in six years. Published reports say Manning has a $15 million buyout in his contract.
Forbes signed an extension with ETSU in 2018 that bumped his salary to nearly a half-million dollars. He came to Northeast Tennessee after serving as an assistant at Wichita State.
The financial terms of Forbes' deal were not announced. Wake is a private school and does not have to reveal that information under North Carolina law.
The school announced Forbes would be formally introduced as head coach during a press conference Friday morning.
The complete report from Wake Forest on Forbes' hiring is available by clicking here.