This one didn't get away: Kingsport fisherman reels in mighty musky in Greene County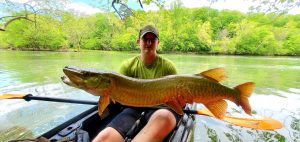 A Kingsport fisherman got the catch of a lifetime on a recent trip to the Nolichucky River.
The Tennessee Wildlife Resources Agency shared a photo of Luke Herndon that showed him just a few minutes after wrestling with a large musky in an area of the waterway located just below the Davy Crockett Reservoir in Greeneville.
Herndon told wildlife officials that it took him about 30 minutes to reel in the massive catch. The agency reported that Herndon released the fish back into the waters.
(PHOTO: TWRA)