Interstate 81 traffic in Chilhowie disrupted by work zone crash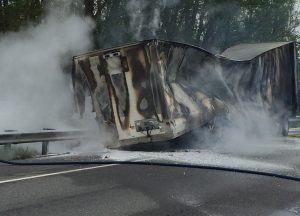 UPDATE: 4:00 a.m, scene cleared according to VDOT.
Previous Story:
Police and emergency personnel were diverting traffic off of Interstate 81 near Chilhowie following a tractor-trailer crash in a work zone on Wednesday.
A statement from the Virginia State Police said agencies were notified of a crash just before noon that involved the 18-wheeler traveling northbound that slammed into a VDOT-contracted crash truck.
The report said the impact caused the trailer to dislodge from the rig and run off the left side of the interstate where it destroyed after catching fire.
The two drivers in the incident were being treated for minor injuries, according to the VSP.
At one point, traffic was backed up 5 miles on I-81. Officers were directing vehicles off the roadway and onto US Highway 11. Traffic was then allowed back on the corridor at Exit 44.
(PHOTO: Virginia State Police)