ETSU Men's Basketball selects assistant Jason Shay to take over program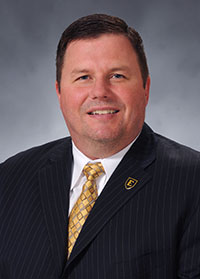 ETSU Men's Basketball has chosen a familiar face to take over as new head coach following the departure of Steve Forbes last week.
ETSU Athletic Director Scott Carter announced last night that 5th year assistant Jason Shay would take over the helm as ETSU's 17th head coach program in program history. As apart of part Forbes's staff, Shay helped lead the Bucs to 130 wins, two NCAA tournament appearances, and two conference titles. Shay was also apart of the staff during the Tennessee Volunteers Elite Eight run in 2010.
Shay's Bucs will head into the 2020-21 season as defending champions of the Southern Conference following a school record 30-4 season last year.
Photo Courtesy: ETSU Athletics