Four counties in NE Tennessee included in flyover salute to front line heroes on Tuesday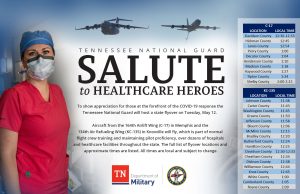 The Tennessee National Guard will take to the skies to salute front line professionals working to help others during the COVID-19 pandemic.
The statewide salute to heroes includes flyovers over four Northeast Tennessee counties including Johnson, Carter, Washington, and Greene on Tuesday, May 12 just after 11:30 am eastern time.
The 164th Airlift Wing from Memphis and the 134th Refueling Wing from Knoxville will be the crews involved in the flight that will soar over hospitals and healthcare facilities.
(PHOTO: Tennessee Department of Military)