TBI: Mother and father arrested in connection to fatal Greene County camper fire that killed three year old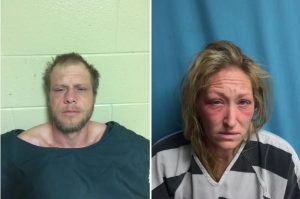 The mother and father of one child killed and another seriously injured in a Wednesday evening camper fire in Greene County have been arrested.
The TBI reports Robert Inbody is charged with two counts of aggravated child neglect, while Devin Cullum is charged with accessory after the fact to aggravated child neglect. Police and fire crews were called to a camper fire Wednesday evening on Woolsey Road, where they found a three year old girl outside of the camper with severe burns, and a located a three year old boy deceased inside the camper.
The three year old girl was taken to the hospital and her condition is unknown at this time. A TBI report says the children were left unattended by Inbody, who reportedly fled the scene to avoid speaking with authorities, and officials say Cullum withheld information on Inbody's whereabouts. Inbody is being held on a $150,000 bond, while Cullum is being held on a $100,000 bond.
The investigation into the cause of the fire remains ongoing.
Photo Courtesy: TBI