Gatlinburg expanding sidewalks downtown as tourists return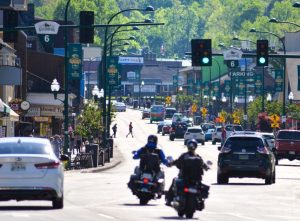 City of Gatlinburg officials are closing one lane of traffic on the parkway for a second weekend to allow people to practice social distancing.
The sidewalk expansion allows pedestrians to use the road's second lane to avoid the potential crowds of people that commonly jam the downtown area of attractions.
The move was approved by city commissioners as more businesses began reopening as part of Governor Lee's Tennessee Promise initiative to restart the state's economy. It stays in effect until 2 p.m. Sunday.
(PHOTO: Gatlinburg Convention and Visitors Bureau)