UPDATE: 13 of 20 stranded hikers rescued at Devil's Bathtub, crews still searching for the remaining seven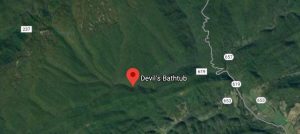 13 of 20 stranded hikers have been rescued from the Devil's Bathtub area in Southwest VA.
Chief Roger Carter with Duffield Fire and Rescue told Supertalk they along with several other crews were called to the area between 7:00 and 8:00 p.m last night on a report of 20 stranded hikers along the trail area near Devil's Bathtub.
Storms that passed through the area caused creeks along the trail to rise according to Chief Carter.
"Last night when we first got there, there was about five and a half deep of water in the streams along with heavy current, making it nearly impossible to get through them," he said.
So far, Carter says the only injuries reported to all of the rescued hikers were cases of mild hypothermia.
We will continue to bring you the latest information as it becomes available.
Original Story:
Members with the Fort Blackmore Volunteer Fire Department and additional crews are searching for stranded hikers at Devil's Bathtub.
A Facebook post from the agency on Sunday evening said eight hikers have been rescued, but around 12 to 20 hikers are still stranded as of 3:30 Monday morning on various parts of the trail. Thunderstorms moved through the area earlier on Sunday, causing creeks to rise and stranding the hikers along parts of the trail.
Water rescue crews from Norton have also been called to the area. This is a developing story and we will provide updates as they become available.
Photo Courtesy: Google Maps