Judge keeps Megan Boswell's bond at $150,000, next hearing set for July 31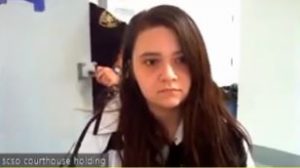 A Sullivan County judge keeps Megan Boswell's bond at $150,000 during her first appearance in court since an indictment last week on 10 additional false report charges.
Attorney Brad Sproles had filed a motion earlier this month to reduce her bond, prior to the indictment. Prosecutors asked Judge Goodwin to keep the bond at $150,000 since no new evidence was presented to the court, and that was granted. Boswell also pleaded not guilty to all 11 counts.
She is accused of making false statements to investigators during a five day period in February on the whereabouts of her 15-month old daughter, who was found dead in March. Megan is scheduled to appear in court again for an announcement hearing July 31st.
Photo Courtesy: TNCourts Youtube Page