Overturned boat discovered at TVA boat ramp in Hawkins County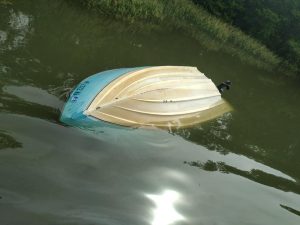 All passengers are accounted for following the discovery of an overturned boat in the Holston River near a TVA boat ramp in Rogersville.
Rescue, law enforcement, and officials with the Tennessee Wildlife Resources Agency were called to the launch site just after 9:30 Friday morning after the vessel was sited, according to a report from the Hawkins County Rescue Squad.
Water rescue teams were about to be deployed when TWRA officials were able to identify and locate the boat owner who said the incident that caused the craft to partially sink must have happened overnight.
(PHOTO: HCRS)