TN Gov. Bill Lee, VA Gov. Ralph Northam respond to weekend protests over death of George Floyd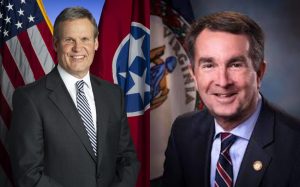 Protests across the states of Tennessee and Virginia over the weekend in response to the death of George Floyd in Minneapolis, MN have caused both governors to take action.
TN Gov. Bill Lee announced on Sunday that he will allow the state's national guard to stay mobilized throughout the state, while state and federal agencies have been called to investigate incidents of violence and vandalism that happened in Nashville.
"The right to peaceful protest is foundational to our country, but the violence and vandalism that occurred in Nashville last night was unlawful and tears at the fabric of our community," said Gov. Lee. "We have reason to believe that many of those involved in unlawful acts are not Tennesseans and we will be working with law enforcement to investigate this further and bring those responsible to justice."
Meanwhile across state lines, VA Gov. Ralph Northam declared a state of emergency in response to several protests that escalated in violence, including granting a request to Richmond to extend a curfew for the city until Wednesday.
"This emergency declaration will provide the necessary support to localities as they work to keep our communities safe, said Governor Northam. "There are many voices speaking out for justice and healing across the United States and in our Commonwealth, but others are exploiting this pain and inciting violence."
Peaceful protests were conducted locally this weekend, including in Bristol, Kingsport, and Johnson City.
Photo Courtesy: Gov Bill Lee/Gov Ralph Northam official photos