Bristol Rhythm & Roots joining music industry to pause the show as part of Blackout Tuesday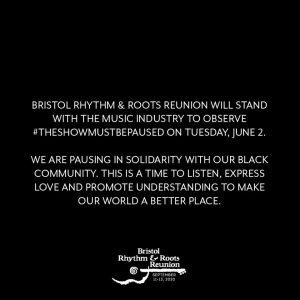 The music industry is pausing the show as part of Black Out Tuesday today, and Bristol Rhythm and Roots is joining the nationwide movement.
A social media post from the festival's page says they stand with the music industry in pausing the show.
The post also says they stand in solidarity with the black community, with this being a time to listen, express love, and promote understanding to make the world a better place.
Photo Courtesy: Bristol Rhythm & Roots via Facebook