Good Girl: Scott County K9 officer Pearla calls it a career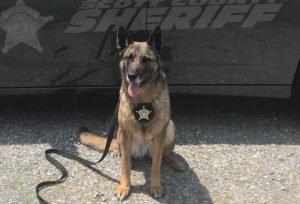 A Scott County, Virginia officer who has helped put several criminals behind bars has handled her last case.
A report from Sheriff Jeff Eads' office says K9 Pearla will now only have days of playing in the backyard and chew toys to deal with after she retired from the force on Monday.
"She is the producer of countless drug arrests in Scott County and we thank her for her service and loyalty to her handler and to our department. The bond between her and her handler will never be broken because she gets to enjoy her retirement at home with him and his family," the report said.
The Belgian Malinois began her duty when she turned three and achieved several certifications for narcotics works while at work.