Tennessee lawmaker apologies after making 'fried chicken' joke toward Memphis colleague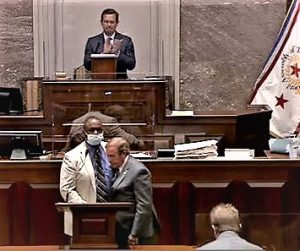 A rarity in Nashville Monday night as Ooltewah lawmaker Mike Carter goes to the well of the Tennessee House for a public apology following a fried chicken joke aimed at Memphis' Joe Towns, Jr.
"Mr. Speaker, thank you for allowing me to address the body tonight and my friend Joe Towns from Memphis. Today earlier in a committee meeting I said something stupid," Towns said, his voicing breaking emotionally during the apology.
Towns said he didn't hear the remark during the earlier session but was caught off guard given the recent racial climate of the US with demonstrations nationwide following the death of George Floyd in Minneapolis.
He accepted the apology but reminded Carter and the ruling body that problems like this would have to be solved together.
"Black men and white men have got to get together and get this thing fixed. Black men and white men, the world is waiting on it. It's not going to happen in this country any other way. You've got to have the courage to do it and you've got to have the courage to fix some of these problems," Towns said.
(PHOTO: Tennessee General Assembly / Capture)