Wetlands to reopen June 25th under certain health guidelines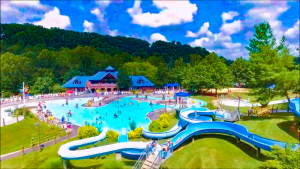 Wetlands Waterpark in Jonesborough has officially announced plans to open its park for the summer season later this month under certain guidelines.
Following approval on their reopening plans earlier this week by the Jonesborough Board of Mayor and Alderman, it gave the park the green light to issue full details on how the park will operate through the ongoing COVID-19 pandemic.
The park will open June 25th with operating hours of 10 a.m to 5 p.m. The park will operate at a capacity of 570, and will halt ticket sales once that number has been reached. They will also not sell season passes, and guests will be pre-screened before entering while being asked to maintain proper social distancing guidelines from other guests not in their party.
Once schools in Washington County, TN go back into session, the park says it will only operate on the weekends.
See the park's website for more information here.
Photo Courtesy: Wetlands Waterpark via https://www.wetlandsjonesborough.com/