Mount Rogers Health District encouraging protesters to get COVID-19 test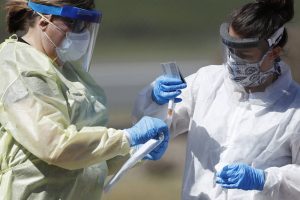 The Mount Rogers Health District is encouraging anyone that has protested within the last few weeks to get a COVID-19 test.
A report from the health district says individuals in large groups are at a higher risk of infection, and should take certain precautions like wearing a mask, washing hands frequently, and try to maintain a six foot distance if participating in a demonstration. Six health departments across the Mount Rogers Health District continue to offer COVID-19 testing on Mondays, Wednesdays, and Fridays by appointment. Those health departments are Bristol, Washington, Smyth, Wythe, Carroll, and Galax.
"We support everyone's right to protest, but we also want people to be safe. People can have COVID-19 and not show symptoms or have only mild symptoms and unknowingly spread the virus to others. For some people, particularly those with underlying health conditions, the virus can be life-threatening. We urge people who have symptoms such as fever and cough to stay home and to get tested," said Karen Shelton MD, health director.
Nationwide protests have been ongoing since the death of George Floyd in police custody last month, including almost daily demonstrations in Northeast TN as well as recent protests in Southwest VA.
Photo Courtesy: FILE – In this Tuesday, March 31, 2020 file photo, medical technicians handle a vial containing a nasal swab at a drive-thru testing site in Wheat Ridge, Colo., as a statewide stay-at-home order remains in effect in an effort to reduce the spread of the COVID-19 coronavirus. Home testing for coronavirus may sound like a good idea, but As of early April 2020, U.S. regulators say it's still too risky. (AP Photo/David Zalubowski)