Wythe County woman wins $100,000 from VA Lottery, marks third Southwest VA lottery winner in June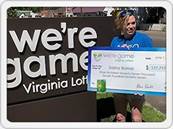 A Rural Retreat woman is the latest Southwest VA resident to win over $100,000 from the Virginia Lottery.
Sasha Bomar took the top prize playing the lottery's Lucky 7 Tripler scratch game, winning the grand prize of $177,777. Bomar purchased the winning ticket from Hilltop Market in Rural Retreat and says she hopes to use her earnings to purchase a new house.
This marks the third local winner in June, as lottery officials reported a man from Saltville won $170,000 last Wednesday, while a Smyth County man won $777,777 last Tuesday.
Photo Courtesy: Virginia Lottery